Bobby Dodd Stadium Seating Chart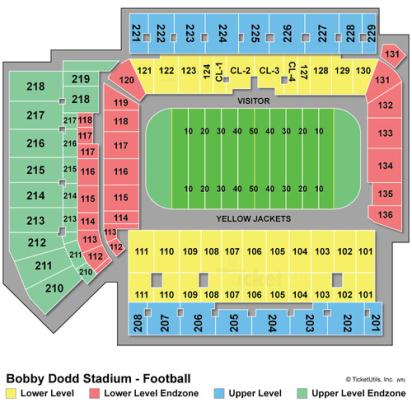 NOTE: Seating layouts can change depending on the type of event. The individual seating chart for the event can be seen when selecting your tickets.
The Bobby Dodd Stadium seats are mainly split into 2 categories; lower bowl and upper bowl. Most seats in the stadium except for club seats are bleachers, no chairbacks.
Club Seats (CL): Club 1, 2, 3, and 4 clearly have the best view thanks to its premium pricing. Fans in this area receive special club amenities including comfortable chairback seats, access to a climate controlled club lounge which opens 1.5 hours before the game, and upscale concession options.
There are only about 4% covered seats in the stadium. They are in the front rows of Sections 224L, 225 and 226L, on the east side. Other cover seats are in the Gold Zone on the North side.
Best view for Yellow Jacket fans are the West sidelines in Section 106. Sections 104-108 has great views of the field too for home fans.
For visitors, the best seats are is in Club 2 and Club 3 sections. Other visitor seats are located in the Southeast side of the stadium, in Sections 130-132 and 229.
Student areas are in both the North and South sides of the stadium. These sections are labeled as Sections 112, 113, 114, 115, etc.
Grab your tickets today and choose your desired seats. Visit the Bobby Dodd Stadium schedule to select your event.
To view our ticket & refund policy please check the ticket information page.